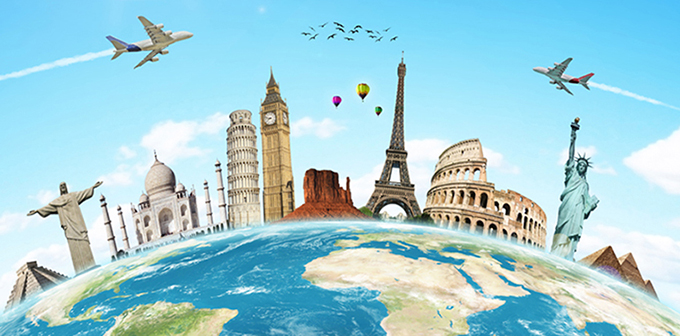 Today, February 21st, I celebrate my birthday. There are no bands, cakes, flowers, or presents, but there are deep beautiful memories of the most wonderful present I have just given myself, A trip to New Zeland and Australia. Do you want to go too? Hurry up and join Janet Blair, head of Solo Travelers and the whole group for a wonderful packed visit of these two marvelous places. The flight will leave soon, so get your boarding pass and come along, and visit and see what our eyes have seen. I do guarantee you a most wonderful time loaded with indelible memories never to be forgotten.
Here we are after a long flight, landing in Auckland, New Zealand. After settling in, in our accommodations, which are absolutely clean, beautiful and with a wonderful view, we today, have a leisure day, which sounds great after a long flight. Auckland has so many boats that it is called the CITY OF SAILS. Okay, now, let us go around this beautiful city by using the hop on, hop off bus, with a narrated commentary. Upstairs offers better views, as you travelers all know, The historical Auckland Museum had a lot to offer and we enjoyed this visit and learnt a lot about World War I and its heroes. By the time evening came, all met in the lobby of the hotel, all looking beautiful and refreshed, and we enjoyed a wonderful dinner and drinks at the top of the Observation Tower. Exotic foods, good drinks, a great place, and everyone seemed to be very relaxed and breathing the pure air at this high level. Everything here is really great, but most of all, it is the goodness and the greatness of the people in it, that make New Zealand, a great place to be sought after. Did I forget to tell you that the name of the restaurant was called the orbit, a really befitting name for this lovely spot.
We made our way to Rotorua where we visited the great Waltomo Cave.(wai means water and tomo meaning cave.) Here is my conundrum, I am very phobic and this was not going to be a great attraction to me, going underground, but something clicked that this was going to be the same as the cave in Tennessee. I see a lot of people goind in, "They are brave," I said. Why not be brave too? At least I will not die alone, I will be with a group of people. Then I took at all the guides and the helpers, and also rationalized that these people spend days, down here. So off I went, tranquilizing any fears that came to mind. I would have missed a great wonder, if I had not taken a grip on myself. This is a real journey underground, a subterranean adventure., where we discovered a labyrinth of limestone caves and formations of stalactites and stalagmites, Attached to these, we saw the light show of the glowworms, who are totally oblivious of the number of people enjoying this show. The boat move in the dark and there is perfect silence, so as not to disturb anything here. What I did notice is that there are ropes in the rocks, and so the boatmen, hold on to these ropes, in order to veer the boat in the right direction. There is not much space here, but I thought that this is done with great precision and attention. I am so happy and proud of myself that I could really overcome my phobia, otherwise, I would have gone all the way to New Zealand, was right at the doorstep of this marvel, and would have missed seeing it.
Rotorua is a place of fascinating Maori culture, hot springs, geysers and boiling mud pools. Some of us walked around Rotorua to find the Polynesian Spa which included therapeutic mineral baths. In the evening, we took to the most award-winning Maori cultural attraction in New Zealand, a Maori village nestled in an ancient forest. This cultural evening with music and entertainment ended with a traditional Maori Hangi feast cooked underground by the men. The Maori tradition is felt intensely in New Zealand.. The Maori language is depicted in the naming of the streets and shops. I spoke with one of the girls who spoke highly of the Maori elders and about her being initiated in their tribe. They get tattooed. And so do the men, not on their arms, mind you , but believe it or not, on their face. It is a Maori design.
Rotorua, here we come. In the morning, we went sightseeing the area's leading attractions, whilst, in the afternoon we joined a tour where we should have experienced the magical Middle-earth at Hobbiton Not so said the God Almighty. Once we got there all the gates of heaven were opened, and we were drenched and soaked, with umbrellas flying in the wind, and sometimes we were slipping also in the mud created by the torrents of rain. We were quickly given shelter in their pub, had some hot chocolate, tea, and great cookies, or sandwiches, whatever anyone desired and of course, without a doubt, disappointment could be seen on everyone's facial expressions. That morning was spent though, visiting the areas where the movie was filmed; It is amazing how our American movie directors find these places in New Zealand. Some of our group were chosen or simply volunteered to reenact some of the scenes in the movie. We visited the famous Tree also. This was an eye opener for me since I never felt interested in these type of movies.
I have to deviate from this testimonial for a while. I kept being captured by what I was seeing and every day was a marvel. Sometimes, I would share with my trip organizer about these feelings of enchantment with the land, and every day, Janet, would tell me that I was in for many more surprises. Sometimes, as the skeptic that grows in me, I would not believe that there were places better than what we had already seen. I would not give Janet enough credibility. On further exploration of other different places, I knew that she was more than right. With conviction, I went to her to tell her about my thoughts. Janet was not exaggerating, but she had been there about 7 times before, so she could certainly be a great witness to all that she had seen. Janet is a great organizer who tries to keep the prices at a minimum. She takes care of all the group and does not shirk any responsibilities. This was my first trip, and I really was enjoying it to the utmost. Compared to the tours on cruises, Janet's prices were affordable.
Let us now keep going, is anyone tired? Perk up, because there is so much more to be seen. Oh come on, get some coffee and wake up. We do not want to miss, what we came to see. Do you believe it has now been 6 days from our departure from Michigan? Wellington, here we come, the curious group. We are passing through the volcanic heart of the North Island to Wellington, New Zealand's harbor capital city. We pass lake Taupo, New Zealand's largest lake before ascending to the volcanic plateau offering its breathtaking views of Mt. Ngauruhoe, Mt. Tongariro and Mount Ruapehu, stunning river gorges with towering viaducts, hidden valleys with lush farming landscapes. Could something of a good thing be too much? But sometimes I did feel, it was too much to take in all at once. Janet was not exaggerating when she would say, that more beauty was still on the horizon.
Okay, we found Wellington, nestled between a grandiose harbor and forest clad hills. It is filled with museums, galleries, boutiques, trendy cafes, and fine dining. Its compact size, makes it look crowded, but on the positive side, it makes it easy to walk around bringing proximity to the ocean, where you cannot help but commune with nature. Tranquility abides here, so I enjoy this trip organized by Janet. Wellington was labeled by Lonely Planet s the "Coolest little capital in the world." We took a cable car to check out the panoramic view of the city. These cable cars run from Lambton Quay to the top entrance of the Wellington Botanic Gardens. We thoroughly enjoyed our brisk walk in these lovely gardens that featured a large Victorian-style glasshouse, the Begonia house, the Lady Norwood Rose Garden nd the Treehouse Visitor Center before returning to the city center. I am going to write this in capital letters. I must not refrain from mentioning that all throughout the trip so far WE HAVE NEVER SEEN A PAPER FLYING ANYWHERE, ANY GARBAGE LYING AROUND, OR ANYTHING ELSE THAT WOULD MAR THE SCENERY. New Zealand is one of the cleanest places in the world. How did these people get trained so well in their behaviors? Lots of signs exist in other places, reading, "Do NOT LITTER." But it seems people or rather visitors really turn a deaf ear, or get blinded. Te Papa museum captured our attention. Some of us went on a tour to discover the secrets of how Lord of The Rings Trilogy was produced.
Wait, we are not done, there is more. This is only day number 8. From Wellington to Picton on an Interislander ferry taking across the little choppy Cook Strait to the seaside town of Picton in the South Island, through the never before seen, the Marlborough Sounds. Upon arriving in Picton, we embarked on a scenic coach driving us through the renowned Marlborough Region, stopping at a few wineries and a brewery. Please note, that the people here are very clean, accommodating and most of all friendly. Some of us bought some wonderful wine also. When you are in Rome, you should taste their stuff and buy biscotti, in New Zealand buy wine, since you cannot buy their great tasting milk as it will go bad, unrefrigerated. Bacchus, the god of wine was watching over us, so we do not get tipsy.
Oh here comes day 9 where everyone spent the entire day on their own. Nelson was a quaint city with a majestic cathedral, that seems to be watching over the city. Manicured gardens surrounding it, added to its beauty. Some of us dined on Nelson Bay scallops. New Zealanders also cook with pungency, and give a great taste to their food. Abel Tasman National Park was known for its golden sand beaches, sculpted granite cliffs, and world famous Abel Tasman coast track.
Did I get tired? Of course not, but I think I am more tired typing this unsolicited testimonial. Oh come on, let us keep going. I want you to read about this whole tour, because I know and feel that everyone should put this on their bucket list. I have spoken with other people who have been to NZ but missed visiting or seeing what we saw. How sad to know that you traveled so far away, and that the travel agent, your leader, did not include certain popular spots. It is heart wrenching, so here again, thanks Janet for thinking of all these wondrous places. You are gentle and kind and soft spoken, but underneath that quiet demeanor there is a steely character that brings out the strength in you as a leader. We are not finished really, please bear with me, cause while I write, I am revisiting all these places. It feels so soothing and peaceful now to just write and reminisce of where we have been. Is it not always the case that looking at all the pictures and bringing back all memories make you feel like a great achiever?
Is it day 10 already? Hurry up please!, if you want to see Greymouth and Christchurch. We are not in a hurry tough, cause we are stopping at Pancake rocks and Blowholes. Whoever gave this name to these rocks, was very concise in his description, they really are stacked like pancakes. Formed 30 million years ago from minute fragments of dead marine creatures and plants that landed on the seabed below the surface. Gradually seismic action lifted the limestone above the seabed. Mildly acidic rain, wind and seawater sculpted the bizarre shapes. This indelible picture will last forever in my memories. Do you still want to go to Greymouth? Of course, we are on vacation. Let us go. We climb the Tranzalpine train for a rail trip of a lifetime. Truly one of the world's most famous scenic train trips. From Greymouth, the train travels east through lush alpine beech rain forests of the South Island's west coast towards the Southern Alps, ascending through the Otira tunnel to the Alpine village of Arthur's Pass. From here, the train slowly descends through spectacular gorges and river valleys of the Waimakariri River, crossing rhe Canterbury plains to Christchurch where we got off and rested for the night at our hotel in this town.
We are free to enjoy Christchurch today. Devastation hit this town when an earthquake hit in 2011. A lot of money has been spent, and is still being spent to bring this town back together again. This is not a Humpty Dumpty story, where all the king's men and all the king's horses put him together again, this is a story that brings tears to your eyes, when you learn how many people lost their lives in the middle of the night, when woken up to a tremor that was over 7 on the Richter scale. The people here are tough, and they still smile because of their strength and their patriotism to the country by rebuilding what they lost. One thing, they will never rebuild, is the souls that were sacrificed during this ordeal. Many construction sites can be seen. Someday, these too will go away, and maybe when all is finished, the bad memories will also fade away. A punting trip was canceled due to the rise of the river. When vacationing we know that we can meet with some disappointments, and this was one of them. Do not ever blame the leader. These are acts of God, and no one is in control. Our leader was disappointed too. The more she shows us, the more popular she becomes, so it is in her best interest for us to see more and more and do more and more activities. My friend Jannell and I did a lot of shopping here and drank a lot of coffee. It was a damp day. We were laughing at ourselves for having gone around Christchurch at least 4 times that day.
The next day we go whale watching in Kalkoura where we embark on the award winning Whale Watch Safari. We saw two whales and they seemed to want to show off. They stay above water for about 8 minutes and then down they go. I felt I was in Weekiwachi in Florida where the girls dance underwater, but in a tank. We saw sharks, dolphins and some other fish. It was an exhilarating boat ride and adventure.
Day 13, and we go from Christchurch to Mount Cook to Queenstown, my favorite city. We left Christchurch by bus to Queenstown, stopping for lunch at the Hermitage Hotel in Mt. Cook, the tallest mountain in NZ, that helped Sir Edmund Hillary to develop his climbing skills in preparation for the conquest of Everest. The Mt. Cook National Park (also known as Aoraki National Park). It is alpine in the purest sense., with skyscraping peaks, glaciers and permanent snow fields, all set under a star-studdied sky. After lunch, we relaxed and took in the stunning views of Mt. Cook. We take a short walk through the native forest trails before being transported to Queenstown with a photo stop at Lake Tekapo which gets its milky turquoise color from the fine rock flour ground by glaciers which is suspended in the water.
Leaving Queenstown to Milford Sound which is a must do for those visiting the South Island. We stopped at the picturesque Te Anau township on the lake before heading through the Homer Tunnel into Milford. Included was a cruise through the Sound, exploring soaring peaks, towering waterfalls and New Zealand with nature at its peak. This is the most amazing scenery in NZ. Furthermore the visions of mirror lakes, mountains with cascading waterfalls, all photographed by all of us on this incredulous trip. A delicious buffet was served and without a doubt, we all enjoyed it immensely. We are almost coming to an end, and we cannot believe it. We stay shopping in Queenstown and eating a lovely lunch, which was quickly interrupted when my roommate Francesca realized that her phone was gone. We retraced our steps, only to no avail. I finally tapped her on her lovely backside and there it was, sitting comfortably and tucked in her back-pocket. Francesca had gone pale, but now the color in her face seemed to surface again. I told you that not everything goes smooth on a vacation. You have to take it all in stride. We both had a good laugh later and talked about the great lunch. Janet had informed us to keep the shopping for Queenstown. We listened and obeyed. Did I mention that Janet had been to NZ for about 7 times, prior to this trip. Why would we not listen to her. She gives great advice. She would not lead you astray. She has very strong characteristics in her character that you endear to her fast. She came with me, when I found out that my carry-on was no longer with me. I had left it on the elevator. She soon found it. What a woman. As I said before, and I will repeat myself. She takes full responsibility. Queenstown is NZ's adventure capital.
Here, I do not want to forget to mention rhe thrilling and for me nerve-wrecking Nomad Safari tour of Skippers Canyon where you will experience some of the most exotic scenery in the country. In the afternoon we took a cruise on the Vintage steamship, TSS Earnslaw to Walter Peak High Country Farm, where we had high tea waiting for us at the country estate and included also a tour of the farm, where we fed the kangaroos, deer and other animals. Later back on the steamship to get a good night sleep.
Day 16 is finally here, and though there was a good time had by all, in a way, there is always the phrase, There is no place like home, and I think that after 3 weeks away from home, adding to our arduous schedule, some sleepless nights, and sore feet, we somehow all felt it was time to go home. Do not take me wrong, this was the best trip I ever had, but there is always and end to a beginning. So on the last day, the 16th of Feb we left Queenstown for Sydney Australia. We had to take a flight to Auckland and then fly home from there on international flights. We again will cross the international date line.
SYDNEY. This place takes the cake. The Sydney Harbour is a beautiful site all around. We managed to see the Opera Carmen here at this uniquely structured place. This was not the rendition of the Carmen we know, but a modernized version of it. We hopped on and off many times, going from place to place, and picking out great places and spots to see. Beautiful beeches, bridges, walkways, skywalks, restaurants and bars. Do not worry there were ice cream places too. The good thing about Sydney, we were within a walking distance from our hotel. On the last day, Janet surprised us with a dinner on a yacht. The tables were ready for us when we got there, and everything looked so synchronized and ready. The food was prepared in a healthy way. Bread and desserts kept us happy. Pictures were taken as a token and remembrances and memories. What a trip. Needless to say that I have not gotten over the jet lag yet. This is not going to deter the fun I had. It will never interfere with the joy I have in my heart because I decided to take this trip. Janet, well done, for every single detail, you were able to cram in these three weeks. If any of you out there, are thinking of traveling, choose Janet. As I said, this is an unsolicited testimonial. From the heart and from my heart's truth. She keeps the price down while showing you the best. When I spoke to my friends, that had come home one week before me from another trip organized by someone else, we discussed trips and compared, and I was shocked to find out that they did not even visit Queenstown, while there, on a trip that had cost them much more than our trip. How lucky can one get? Call Solo travelers or go online and get in touch with Janet Blair. Reach her at 248-310-3747, Info@solotravelersintl.com
My hat's off to you Janet. Hoping to travel with you again, in the not so distant future.
— Fabiola Tonna
---


For more information or bookings for our upcoming
events or trips, call 248-310-3747 or email
info@solotravelersintl.com

Copyright   ©   Solo Travelers International. All rights reserved.